Essential oils are highly scented flower and plant essences, they are a very natural way to scent soap. However, they are such highly concentrated products that you need to be careful with them. If you add too much of it in your soap not only you waste money (essential oils are expensive!) but they could cause skin irritation.
There's some confusion about using essential oils in soap making; which ones to use and how much of each you can use. Some of the more common essential oils are listed below along with how much of each can be used in a batch of soap. The information includes maximum percentage in a recipe, maximum amount in ounce and grams, and also how much in teaspoons can be used in a one pound batch of soap.
What is an Essential Oil
Essential oils are basically plant extracts, most commonly obtained by distillation of raw material plant (leaves, flowers, wood, bark, roots, seeds), although there are other processes such as cold pressing. A distillation apparatus (alembic) is used to separate the plant essence from the water content, thus creating the "essence" oil, a concentrated hydrophobic and lipophilic liquid with volatile chemical plant compounds.
The recondensing water is reffered to as an hydrosol, hydrolat, herbal distillate, or plant water essence, which may be sold as another fragrant product. Hydrosols include rose water, lavender water, lemon balm, clary sage, and orange blossom water, and its use in cosmetics is increasing.
However, just because something is natural doesn't mean it's safe. Plants and herbal products contain many bioactive compounds that may harm your health, and essential oils are no different, as they are highly concentrated in these compounds. Therefore, it's usage should be taken carefully. However, when inhaled or combined with a base oil for use on your skin, most essential oils are considered safe.
High-quality oils only use pure plant compounds extracted by distillation or cold pressing. Keep the following tips in mind to choose only high-quality oils:
Purity: Find an oil that contains only aromatic plant compounds, without additives or synthetic oils. Pure oils usually list the plant's botanical name (such as Lavandula officinalis) rather than terms like "essential oil of lavender."
Quality: True essential oils are the ones that have been changed the least by the extraction process. Choose a chemical-free essential oil that has been extracted through distillation or mechanical cold pressing.
Reputation: Purchase a brand with a reputation for producing high-quality products.
Essential oils are expensive. Although botanicals including rosemary, spearmint, tea tree, citronella, sandalwood and roman chamomile are quite aromatic, it takes a significant amount of plant material to produce even a small quantity of essential oil: for example, it takes all of the petals from 30-50 roses to produce a single drop of Rose Otto Essential Oil.
We should be mindful and refrain from utilizing essential oils in an excessive, careless or wasteful manner. We often emphasize the important less is more approach when it comes to essential oil safety and efficacy. However, the less is more approach can and should also be applied to the conscientious use of essential oils due to the significant amount of botanical material required to produce essential oils.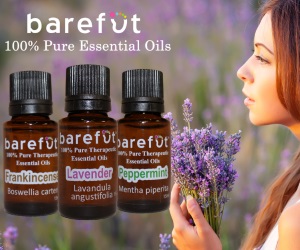 How Not to Get Lost When Purchasing Essential Oils
If you wish to know more about essential oils, especially where and how to purchase them, please, see this article Where Do You Buy Essential Oils For Soap Making?
How Much Essential Oil Can Be Used?
It's tricky to answer just how much essential oil can be used in soap recipes. There are different reccomendations everywhere but I base my own soap recipes on what the stricter European Union outlines. Just remember that just because essential oils are 'natural' does not mean that they are always safe.
Using too much in soap can cause all kinds of issues including skin irritation and photo sensitivity. You can't be too careful if you're making natural soaps to give to loved ones or the public. In my opinion, there is no need to exceed the maximum usage rates set by the European Union. Besides, essential oils are expensive and a little quantity already provides some very pleasant scents to your soap, combined with its natural aroma.
As a rough rule of thumb, I convert g into ml directly. It's a rough approximation since density (g/ml) in oils is not 1 – they range from 0,8 to 0,95 approximately. But we are on the safe side as most oils have a density lower than 1, so if you use 15 ml in place of 15g you are actually using a lower weight quantity than 15g.
As a final note, since we are used to commercial fragrances containing chemical syntetic substances, manufactured to be stronger and more lasting, smelling essential oils may feel a bit dissapointing at first, as its scent might feel "faint". But give some time and get used to the more natural scents of essential oils, before giving up on them.
Creating Essential Oil Blends
Essential oils can be used on their own. however, they work better in blends. Aromatic blending for the sheer pleasure of the aroma is a combination of creativity and science. Creating blends is a complex but also a fun activity. Here are some tips to create a blend:
– Essential oils can be categorized into broad groups based on their aromas. An example categorical system is as follows:
Floral – Lavender, Neroli, Jasmine. …
Woody – Pine, Cedar, …
Earthy – Vetiver, Patchouli, …
Herbaceous – Marjoram, Basil, …
Minty – Peppermint, Spearmint, …
Camphorous – Eucalyptus, Cajuput, Tea Tree, …
Spicy – Nutmeg, Clove, Cinnamon, …
Citrus – Orange, Lemon, Lime, …
– Using the analogy of a musical scale, oils can be categorized according to their lasting effect:
Top Notes: oils that evaporate the quickest, usually within 1-2 hours
Middle notes: oils that evaporate with 2-4 hours~
Base notes: Oils that take the longest time to evaporate. Some base notes can take several days to evaporate!
– There are not rules to create blends, but you can follow these guidelines to start:
30% of a blend should be Top Notes
50% of a blend should be Middle Notes
20% of a blend should be Base Notes
– Safety first. Avoid essential oils that are known skin irritants and be sure to follow the safety guidelines for each essential oil that you are considering incorporating into your blend. Do not use quantities above 3% in soap making
– When creating a new blend, start out small with a total number of drops of 5, 10 drops. Use 10ml amber bottles to store your blends.
– Keep a notebook that lists each oil that you used with the number of drops used for each oil. Be sure to label your blends clearly.
– After creating your blend, allow it to sit for a few days before deciding if you love or hate it.
Best Essential Oils for Soap Making
The EU considers an essential oil usage rate of 3% or less to be safe in wash-off products like soap. For clarification, that 3% of the total amount of soaping oils in a soap recipe by weight. 3% of a batch of 450g is 13,5g. 3% of a batch of 1Kg is 30g.
I have extracted this table from the website Lovely Greens, and I use it as a reference or for inspiration when making the blends I use for soap making. I am also updating the list to include my own experience, as I experiment with essential oil blends in soap making. For example, I found out that rose geranium goes well with patchouli.
The table below shows essential oils maximum usage in %, in weight per 450g of soap, and in teaspoons. It includes many of the most commonly used essential oils for soap making but there are others too. Before using any essential oil, please do research on how much can be safely be used in soap. The last column of the table gives essential oil blend recommendations.
Essential Oil
Maximum
%
Maximum Ammount
per 450g oils (g/oz)
Scent Note
Information
Blends with

Amyris
Amyris balsamifera
3%
13g / 0,46oz
Base

West Indian Rosewood has a soft resinous aroma similar to Benzoin. It's used as an alternative to Sandalwood and is useful in helping to 'fix' soap scents
Cedarwood, Geranium, Lavender, Rose, Sandalwood
Bergamot
Citrus bergamia
3%
13g / 0,46oz
Top
Clean and refreshing citrus scent that's used in soap making. One of the few top note essential oils that can be used on its own in soap making.
Citronella, Eucalyptus, Geranium, Neroli, Palmarosa, Ylang Ylang
Black Pepper
Piper nigrum

3%
13g / 0,46oz
Middle, Top
A warm and peppery scent that should be used sparingly. Permitted usage rates are higher than most people will enjoy as a soap scent. Start with just a few drops and blend with another essential oil(s).
Basil, Lavender,
Bergamot, Cedarwood, Clary Sage, Peppermint
Cardamom
Elettaria cardamomum

3%
13g / 0,46oz
Middle
Sweet and spicy essential oil that works best as a blend. Works well with most other oils but especially citrus, spice, and woodsy scents.
Bergamot, Cedarwood, Cinnamon, Orange, Ylang Ylang
Cedarwood Atlas
Cedrus atlantica

3%
13g / 0,46oz
Base
Warm and woodsy aroma that blends well with floral, spice, and wood oils.
Bergamot, Frankincense, Juniper, Lavender, Rose, Rosemary
Cinnamon Leaf
Cinnamomum zeylanicum

1%
4,5g
Middle,
Base
Pungent, warm, spicy, candy-like scent, with sweet, fruity nuances. Acts as a base note, adding warmth, energy, sharpness, and texture to a blend.
It accelerates trace significantly!!
Ginger, Cardamom, Nutmeg, most citrus oils, Frankincense, Lavander, Rose, Peppermint, Sweet Marjoram, Petitgrain
Chamomile (Roman)
Anthemis nobilis

3%
13g / 0,46oz
Middle
Roman chamomile is sweet and floral and blends well with other floral and citrus oils.
Geranium, May Chang, Neroli, Palmarosa, Rose, Ylang Ylang
Chamomile (German – Blue)
Matricaria Recutita
3%
13g / 0,46oz
Middle
German Chamomile oil it's more expensive and used mainly in leave-on skincare products.
Geranium, May Chang, Neroli, Palmarosa, Rose, Ylang Ylang
Clary Sage
Salvia sclarea
2%
9g / 0,32 oz
Middle, Top
Deeply earthy and slightly floral scent that does better in blends than on its own.
Cedarwood, Geranium, Lavender, Lime, Sandalwood, Vetiver
Eucalyptus
Eucalyptus globulus
3%
13g / 0,46oz
Top
Sharp and powerful resinous scent associated with medicinal products. Does well in blends, especially with citrusy oil.
Citronella, Juniper, Lavender, Lemongrass, May Chang, Pine, Rosemary
Frankincense
Boswellia Serrata
3%
13g / 0,46oz
Base
Extracted from the gum and bark of the Boswelia tree, from Somalia. It's a sweet, spicy and woodsy scent, very pleasant. Due to its anti-aging properties is very used in facial skincare. In soap, it works better blended with Myrrh and 'fixed' with a clay
Lime, Lemon,
Wild Orange, Cypress,
Lavender,
Geranium,
Rose, Myrrh
Sandalwood,
Ylang Ylang,
Clary Sage
Geranium (Rose)
Pelargonium graveolens

3%
13g / 0,46oz
Middle
Floral, earthy, strong and deep, Rose Geranium is one of the most beloved essential oils. It's often used to replace Rose Absolute as it's less expensive. Use on its own or blended.
Bergamot, Clary Sage, Grapefruit, Lavender, Sandalwood, Patchouli
Ginger
Zingiber officinalis
3%
13g / 0,46oz
Top
Spicy and warming but may smell completely different from fresh ginger. Use in blends with other deep scented oils.
Eucalyptus, Frankincense, Geranium, Rosemary, Vetiver
Grapefruit
Citrus paradisi

3%
13g / 0,46oz
Top

A fresh and sweet citrus aroma that blends well with floral and citrus essential oils.
Bergamot, Chamomile, Geranium, Lavender, May Chang, Rose

Juniper Berry
Juniperus communis
3%
13g / 0,46oz
Middle

Crisp, sweet, and woodsy aroma that blends well with citrus oils.
Bergamot, Geranium, Lemongrass, Orange, Sandalwood
Lavender
Lavandula augustifolia
3%
13g / 0,46oz
Middle
Long used in the perfume industry, lavender oil is sweet and floral and blends very well with many other essential oils.
Basil, Clary Sage, Geranium, Lemon, Patchouli, Rosemary, …
Lemongrass
Cymbopogon schoenanthus
3%
13g / 0,46oz
Top
Lush and green citrus scent that does well on its own in soap and when blended. Strong "lemony" scent.
Basil, Black Pepper, Clary Sage, Cedarwood, Lavender, Patchouli, Thyme, May Chang
Lemon
Citrus limonum
3%
13g / 0,46oz
Top
Lemon essential oil unfortunately does not last well in soap. If you're trying to use it, try 'fixing' it with the stronger scented May Chang essential oil.
Chamomile, Eucalyptus, Ginger, Lavender, May Chang
Lime
Citrus aurantifolia
(distilled only)
3%
13g / 0,46oz
Top
Lime essential oil can be irritating so only use distilled oil when making soap. Like other citrus oils, the scent may not be strong after the first couple of weeks. 'Fix' the scent by using May Chang essential oil.
Basil, Geranium, May Chang, Palmarosa, Ylang Ylang
May Chang
Litsea Cubeba
Litsea cubeba
3%
13g / 0,46oz
Top
May Chang, known officially as Litsea cubeba is another top note oil that can be used on its own. It's sweetly citrusy and it's a good scent 'fixer' for citrus essential oils that tend to dissapear in soap.
Cedarwood, Eucalyptus, Ginger, Grapefruit, Palmarosa,
Lemon, Lime, Orange
Neroli
Citrus aurantium
3%
13,5g
Top, Middle, Base
Neroli is the floral-honey scent produced by the bitter orange tree. Depending on what it's blended with, it can make up any of the notes in a fragrance.
Geranium, Lavender, Lime, Palmarosa, Rose, Ylang Ylang
Nutmeg
Myristica fragrans
0,08%
0,36g
Middle
Similar to the spice you'd use in cooking but far more fragrant. Woodsy, spicy, and slightly smokey.
Bergamot, cardamom, cedarwood, clary sage, frankincense, lemon, grapefruit, lavender, rosemary, ginger, eucalyptus, sandalwood, orange, ylang ylang
Palmarosa
Cymbopogon martini
3%
13,5g
Top
Palmarosa is also called Gingergrass and its scent is like a musky grassy rose.
Patchouli
Pogostemon cablin
3%
13,5g
Base

Though it can be used on its own, Patchouli works better when it's blended with other oils. It's earthy and dark and very powerful. Goes very well with Rose or Rose Geranium.
Clary Sage, Rose, Geranium, Lavender, Lemongrass, Neroli
Peppermint
Mentha Piperita
2%
9g
Middle, Top
Sharp and filled with herbal menthol, Peppermint can be used on its own or blended with other herbal essential oils, It's strong and tends to overpower the other scents.
Lavender, Marjoran, Rosemary, Pine, Spearmint
Petitgrain
Citrus aurantium
3%
13,5g
Middle, Top
Like Neroli and Bergamot, Petitgrain comes from the Bitter Orange tree. It's extracted from the bark and has a woodsy, floral, and slightly bitter scent. Best expressed in a blend.
Cedarwood, Geranium, Lavender, Orange, Palmarosa, Ylang Ylang
Rose Absolut / Rose Otto
Rosa damascena
0,2%
0,9g
Middle, Base
Rose Absolute is overwhelmingly scented of roses. Mainly sold in dilutions, its usage in soaps is restricted due to its Methyl eugenol content. It's also one of the most expensive essential oils.
Clary Sage, Geranium, Lavender, Neroli, Patchouli, Sandalwood
Rosemary
Rosmarinus officinalis
3%
13.5g
Middle
Sharp and herbal rosemary blends well with other herbal scents as well as citrus.
Citronella, Geranium, Ginger, Grapefruit, Lime, Lemon, Lemongrass, Tea Tree
Sandalwood
Santalum album
3%
13,5g
Base
Soft, warm, and woodsy, Sandalwood is a gorgeous base for many citrus and floral oils.
Geranium, Lavender, Lemongrass, Lemon, Palmarosa, Rose, Ylang-Ylang, Frankincense
Scots Pine
(Pine Needle)
Pinus sylvestris
3%
13,5g
Middle, Top
Sharp and herbal, Pine blends with other herbal, woodsy, and citrus oils.
Cedarwood, Eucalyptus, Lemongrass, Rosemary, Tea Tree

Spearmint
Mentha viridis
3%
13.5g
Top
Sweet and fresh mint scent without as much natural menthol as Peppermint. Use in blends with other herbal oils.
Basil, Rosemary, Peppermint, Tea Tree, Vetiver
Sweet Marjoram
Origanum marjorana
3%
13.5g
Middle
Scent similar to basil and oregano and can be blended with other herbal, citrus, and floral oils
Bergamot, Chamomile, Rosemary, Vetiver, Ylang Ylang
Sweet Orange
Citrus sinensis
3%
13.5g
Top
Like some of the other citrus oils, sweet orange doesn't last well in soaps. Blend with May Chang to 'fix' the scent
Geranium, Juniper, Lavender, May Chang, Neroli, Rosewood
Tea Tree
Melaleuca alternifolia
3%
13.5g
Top

Sharp, camphorous, and medicinal scent. Very strong and overpowering scent, I recommend to use it sparingly. Use drops instead of tsp, and add more later.
Citronella, Lavender, Lemon, May Chang, Rosemary, Pine, Eucalyptus
Vetiver
Vetiveria zizanoides
3%
13.5g
Base
Green and earthy and related to lemongrass. A very strong earth/wood scent. Blend with floral oils and other deep scents, but use drops. Also, an expensive essential oil.
Clary Sage, Ginger, Lavender, Patchouli, Ylang Ylang
Ylang-Ylang III
Cananga odorata
3%
13,5g
Base
Called the 'Flower of Flowers', this oil is sweet and tropically floral. Use in blends with citrus, floral, and woodsy oils. Very strong and overpowering scent, use with drops first.
Grapefruit, Lavender, Rose, Patchouli, Sandalwood

Scent Fixer
The scent of essential oils can fade over time but there are ways to 'fix' the scent so that it lasts longer. Sometimes another essential oil can help the others to stick, usually base note essential oils, and at other times it's best to use another additive that works to absorb the essential oils into it.
Fixers are a bit more advanced in soap making, but here is the information so that those experimenting with making nice smelling soap aren't frustrated by their soap's scent evaporating during the curing process. Here are some of the 'fix' choices:
Benzoin – available as both a powder and as an essential oil
Cornstarch – use as little as a teaspoon in 800g batches.
Oatmeal – using fine blended oatmeal in your soap will add light exfoliation and will absorb and hang onto your essential oils.
Essential oils – May Chang (Litsea Cubeba) Oil, and base note essential oils like Cedarwood Oil, Patchouli Oil, or Balsam Fir Needle Oil are all great at grounding the other essential oils in the blend.
References