Who doesn't want to try out a luxurious item? Most of them are out of our finantial reach, but some, like soap, might be something we feel tempted to try out. 
Of course, the real luxury soaps, like most luxury items, are not shown to the general public and will have absolutely outreageous prices with loads of zeros… Like this soap of 2050€, covered in diamond and gold powder…. 
Still, if you look in Amazon or even a physical cosmetic shop, you might find some soaps labelled as "luxury soaps". What are they? In my opinion, I would expect to have an extraordinary bar of soap or liquid soap, with an exquisite scent (not necessarily strong to an overwhelming point), feeling very creamy, sliky, moistorizing, conditioning, with a sense of cleansing, freshness and hydration on my skin. I'd also expect to have some expensive ingredient like a special clay or a special oil, for an extra benefit on my skin (deep cleansing or hydration ability). Do you agree?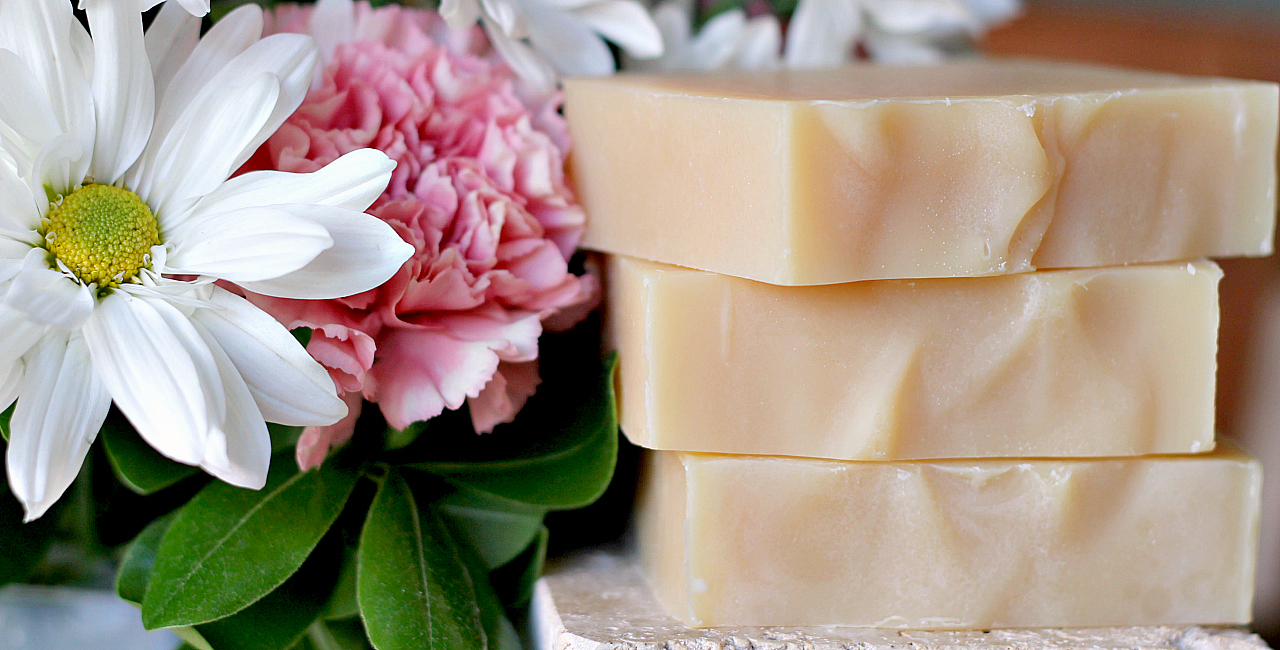 Well, searching the net for the most wanted (or searched) luxury soaps, I compiled a small list of 5 soaps that I've analysed, with a focus on the list of ingredients.
You can read my article Commercial Soap Ingredients – What Are They? first, to understand better about the ingredients analysed in this review. As a reference, I've compared them with a normal bar of commercial soap, the "Dove" beauty bar "Purely Pampering Shea Butter". Also, I am rating each soap considering the following: information available on the net, list of ingredients, customer reviews, and relation with the commercial soap.
#5 – Castelbel – Tile Ginger and Orchid
Ingredients: No ingredients available on brand/manufacturer website
Ratings on other websites: (none)
Ratings on Amazon: 5 stars (1 review)
My rating: 5 of 10 
Weight: 300g
Price (Amazon): 24£ (0,08£/g)
Available on Amazon.co.uk
This soap looks good, and might be good, but I am not informed enough to buy this product… I don't know what it is made of unless I buy it. Unfortunately, it's not the only brand where this has happened. Dior J'adore soap, Creed soap, and many many others do not display their ingredients online. I can't find a good reason why this is still done… This is the only reason why it's in #6 of the list.
#4 – Tom Ford – Oud Wood Bar Soap
Ingredients: Sodium Palmate, Sodium Palm Kernelate, Water\Aqua\Eau, Glycerin, Fragrance (Parfum), Sodium Chloride, Tocopherol, Pentaerythrityl Tetra-Di-T-Butyl Hydroxyhydrocinnamate, Benzoic Acid, Tetrasodium EDTA, Linalool, Titanium Dioxide (CI 77891), Iron Oxides (CI 77492), Iron Oxides (CI 77499), Red 4 (CI 14700)
Ratings on Amazon: (unavailable) 
Ratings on other websites:  4.4 stars (3690 reviews)  www.fragrantica.com
My rating: 5 of 10
Weight: 150g
Price (Amazon): 64,9£ (0,42£/g)
Available on Amazon.co.uk
A soap made with palm oil and palm kernel oil. Tocopherol (the chemical name for vitamin E) and iron oxides which are considered as natural colorants (natural minerals changed in laboratory to eliminate their toxicity) are the plus sides of this soap. Also, it has very few allergens (most soaps, even natural ones, contain a few allergen substances, most of them coming from plant extracts. Even if present in minimal percentages, they are always present in the ingredients list)
On the minus side, we have artificial substances with no clear benefits to our skin (like "Pentaerythrityl Tetra-Di-T-Butyl Hydroxyhydrocinnamate"), and the colorants, especially red-4, a synthetic colorant. And a total lack of inspiration. No special ingredient. No noble oil or natural extract. The glycerin added is only there because you previously removed the good natural soap glycerin: you can read the explanation in my other article Glycerin vs vegetable glycerin. 
Comparing it to "Dove", again it's a total "meh"… "Dove" bar has more substances of concern and allergens, it's true, but at least it has shea butter!! And stearic acid/lauric acid in an attempt to make it more nourishing. In this soap bar, a luxury soap, it's like they didn't even bother to try. It's like the fragrance is all that you have to say about the soap… In that case, just buy the perfume…
A luxury soap that is "less than ok" especially the price. It costs some gasping 65£ in Amazon for a 150g of soap bar….
#3 – Hermés –  Eau d'Orange Verte Perfumed Soap 
Ingredients: Sodium Palmate, Sodium Palm Kernelate, Aqua (Water), Parfum (Fragrance), Glycerin, Limonene, Palm Kernel Acid, Sodium Chloride, Decyl Glucoside, Allantoin, Linalool, Citral, Alpha-Isomethyl Ionone, Tetrasodium Etidronate, Tetrasodium EDTA, Ethylhexyl Methoxycinnamate, Pentaerythrityl Tetra-Di-t-Butyl Hydroxyhydrocinnamate, Coumarin, Geraniol, CI 77891 (Titanium Dioxide).
Ratings on Amazon: 4.6 stars (31 reviews)
Ratings on other websites:  4.9 stars (9 reviews) www.allbeauty.com
My rating: 6 of 10
 Weight: 150g
Price (Amazon): 20£ (0,13£/g)
Available on Amazon.co.uk
Another luxury soap bar that is pretty average… its main ingredients are again palm oil and palm kernel oil, and the only good ingredient worthy of notice is allantoin, a substance that contributes to skin smoothness, and soothness from any sort of irritation. It's also an anti-inflammatory. 
It has a few allergens: limonene (as the 6th substance listed this is a bit worrying), Linalool, Citral, Coumarin, Geraniol. These allergens usually are present in natural plant ingredients like essential oils. 
It has other substances used to improve soap characteristics like color, fragrance, durability ("best by" date), to prevent bacteria and mold to be created on the soap bar. But with no added benefits to the skin.
A substance of concern: we have Ethylhexyl Methoxycinnamate, which is genotoxic when exposed to sun rays (when used in sunscreens) and a potential endocrine disruptor.
Compared with "Dove" bar, it's not so bad, it has fewer colorants, allergens, and substances of concern. It also has few good ingredients, just like soap bar #4. 
Again, another disappointing luxury bar. So beware where you are spending your money in…. I would also not buy this bar of soap.
#2 L'Occitane – Verbena Shea Butter Extra Gentle Soap
Ingredients: Sodium Palmate – Aqua/Water** – Sodium Palm Kerneltate** – Sodium Cocoate – Sodium Shea Butterate** – Lippia Citriodora Leaf Extract* – Glycerin** – Tetrasodium Glutamate Diacetate – Tetrasodium Etidronate – Sodium Benzoate – Sodium Chloride – Citric Acid – Parfum/Fragrance – Citral – Limonene – Linalool – Geraniol – Citronellol
Ratings on Amazon: 4.5 stars (581 review)
Ratings on other websites:  4.8 stars (77 reviews) https://uk.loccitane.com/
My rating: 8 of 10
Weight: 250g
Price (Amazon): 20£ (0,08£/g)
Available on Amazon.co.uk
Ah, this is closer to natural soap, with palm oil (again), palm kernel oil (again), coconut oil and shea butter. Oh this is different! Shea butter is the most common "noble" hidrating ingredient. It also has citric acid, a weak organic acid present in citrus fruit, usually used to lower pH, and a "chelator", to make soap to work better in hard water. At the end, we have the parfum, and other alergens, there are 5 of them, but they are all natural, and in the lowest % of soap content.
I would like this soap if not for lippia citriodora leaf extract and the still big amount of non-natural chemicals. Lippia citriodora leaf extract is a natural extract of verbena leaves. Unfortunately, its essential oil is toxic, therefore it is a forbidden substance, except for Verbena absolute essential oil, which is still restricted. Still, I'm not too bothered with it.
Compared with "Dove", it's better. It doesn't have its surfactants but it's a soap made of palm oil, palm kernel oil, coconut oil, and shea butter. It has as many allergens, but – good choice!- no colorants.
In summary, this soap is better and more natural, therefore, softer and more nourishing to your skin than #5 and #4. Still, I am disappointed since it is still comparable with a commercial, normal, completely average soap bar, that costs 7 times less…. These luxury soaps seem to be luxurious only in the pricing… 
I am still waiting for some extravagant, exotic ingredients. I'd buy this soap, but only with a big discount 🙂
1# The Clovelly Co – Cedarwood & Lemongrass Soap
Ingredients: Saponified Olive Oil, Coconut Oil and Sustainably sourced Palm Oil, Cedarwood Essential oil, Lemongrass Essential oil (naturally occurring allergens present:Citral, Eugeneol, Limonene, Citronellol, Linalool)
Ratings on Amazon: 4.4 stars (125 reviews)
Ratings on other websites:  (not found)
My rating: 9 of 10
Weight: 250g
Price (Amazon): 14£ (0,05£/g)
Available on Amazon.co.uk
Well, this is nothing but a real natural soap!! Unfortunately it's very similar to the ones I make at home… It's not a luxury soap either. I do have ingredients at home to make a more luxurious bar that would put this one to shame! 
These are just natural, regular ingredients used in soap making: olive oil, coconut oil, palm oil from sustainably sourced suppliers, essential oils of cedarwood and lemongrass (a classic blend). 5 natural alergens, and no artificial chemicals, no water, preservatives, hardeners…. or the nasty artificial colorants.
And it's the cheapest so far. Not a bad purchase, even if the scent might be fainter than in the other soaps (simply because it doesn't have artificial enhancers…). 
It's not a luxury bar, but considering the list of ingredients, it is definitely the best soap on the list. Considering price, it's definitely the best purchase. But, damn, it's still not a luxury bar….
Conclusions
I am a converted fan of natural soap. I really can't defend synthetic and artificial ingredients and manufacturing overprocessing over natural ingredients with a simple process that creates all the good substances to clean and take care of your skin.
So, I always tend to rate what is more natural, and closer to raw ingredients. Of course, a list of ingredients do not tell me about the manufacturing process.
I've chosen The Clovelly Co – Cedarwood & Lemongrass as the best soap of the list. Natural soaps are luxurious by nature!! Still, I am looking for luxury soap bars with extravagant ingredients (like Dead Sea mud, or Dead Sea salt!). 
In this set of soaps, I only found the mostly ordinary ones, like palm oil everywhere…. sea salt… glycerin. Not even olive oil was once used (olive oil is a great conditioning and moisturizer ingredient, making your soap really hydrating).
I suppose these companies invest a lot on the fragrance, and looks, which is what makes the soap to stand out from one another.
But our skin also needs some nourishing and treatment, especially, it needs not to be attacked by harsh and allergenic agents, just to make the bar prettier, or with a stronger scent… it's evident that good quality ingredients to treat and clean your skin is relegated to second plan…
I will continue my pursuit on luxury bars and see if I find a real one 🙂
I hope you enjoyed this product review. Leave a comment if you have any question or wish to give your opinion.