Try this anti-aging face lotion recipe, packed with natural ingredients rich in anti-aging agents such as retinol (naturally present in rosehip seed oil), polyphenols and peptides (naturally present in pomegranate seed oil), flavonoids and other powerful anti-oxidants (present in horse-chestnut extract).
A Mild Face Lotion
This lotion is a water-to-oil solution made primarily with ingredients with anti-aging effects, among others, rose water, cleansing, hydrating and mild for skin. The infused water, oils and extracts are aimed at helping with wrinkles and mature, aging skin. 
We also use an emulsifying wax and a preservative, as for me the preservative is as essential for a water-oil emulsion as the emulsifying wax itself. Please, read How To Make A Natural Face Lotion to learn more about the roles of emulsifying wax and preservatives in an emulsion. 

Anti-Aging Ingredients 
According to several sources, it is unanimous that these are the substances that better help preventing aging skin signals, such as wrinkles, dry skin, spots, and lack of elasticity (check out the following sources: Prevention , The Strategist, Healthline, Skin Anti-aging Strategies paper):
Anti-oxidants
– Vitamins: Vitamins are mainly anti-oxidants, which help in the fight against free radicals (unstable molecules that can do major damage to your cells) and in the reduction of collagen degradation. Vitamins C, B3, and E are the most important antioxidants because of their ability to penetrate the skin through their small molecular weight. Clinical studies have proven that the antioxidative protection is higher with the combination of vitamins C and E than with the vitamin C or E alone. 
– Polyphenols or Flavonoids: They are known to help in the fight against free radicals and also help to reduce inflammation. They are present in many fruits, vegetables, spices, tea, dark chocolate and red wine.  
Cell Regulators
– Retinol (a vitamin A derivative): has a strong positive effect on collagen metabolism and stimulate the production of collagen and elastic fibers. It can help increase cellular turnover and encourage the formation of new skin. It also helps reducing hyperpigmentation – dark spots or patches. 
– Peptides (amino acids): they have the ability to stimulate collagen production and activate dermal metabolism.
Of course, moisturizing your skin and using humectants to keep the water in your skin are equally important. You can see most of these components explained in detail in Vegetable Oil Composition.
So, let's analyze the ingredients of this lotion you can easily make at home, and see how close we are from an effective anti-aging lotion:
– Rose Water: I use this ingredient in many of my personal handmade cosmetics. It's at once cleansing, hydrating, calming and mild for skin. It is also anti-inflammatory, helps to heal scars, burns or cuts, and calm down red skin, rashes and skin irritation in general. It contains a good amount of different flavonoids, and vitamin C. You can read all of its benefits in Healthline and in this paper.
– Rosehip Seed Oil: this is a staple anti-aging ingredient in natural cosmetics. With high levels of vitamins A (retinol), C, and E, it helps boost collagen formation, reduce hyperpigmentation, inflammation, scars, and fine lines, and protects from UV damage (to some extent, do not use rosehip seed oil as a sun blocker!). Also rich in essential fatty acids, it's a great moisturizer. Although rare, rosehip seed oil may cause allergic reactions, therefore, you should make a skin test before using it on your face.
– Pomegranate Seed Oil: Rich in several polyphenols, it helps reduce cellular damage in your body, by reducing free radicals damage, decreases inflammation, the incidence of age spots and wrinkles, and provides some natural protection from UV damage. Its high vitamin C content also helps to fight bacteria and fungus (helping with acne), due to its antimicrobial properties and reduces cellular damage as well.
– Vitamin E: this recipe uses 5% of vitamin E oil (tocopherol), contributing to its anti-oxidant and anti-inflammatory properties, therefore, also helping fighting free radicals and reducing UV damage. Combined with the other oils' Vitamin C content, it boosts the anti-oxidant properties of both vitamins C and E.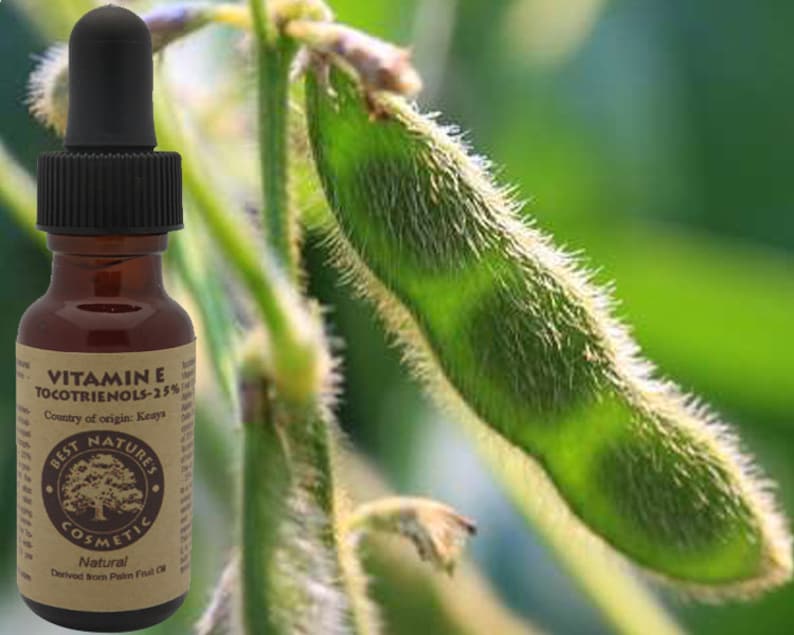 – Horse Chestnut Extract: Horse chestnut extract is best known for treating varicose veins and other circulatory problems, like chronic venous insufficiency, due to its main active substance, aescin. This substance, along with flavonoids, also provide powerful anti-inflammatory and anti-oxidant properties. Aescin has been shown to inhibit hyaluronidase, an enzyme that can break down the hyaluronic acid found in skin. As skin uses this as a moisturizing component, a reduction in this enzyme can lead to an increase in skin hydration.
While the oils in this recipe are indeed expensive, costing more than 100€/liter (you can buy small bottles of 1 oz or 30 ml for 10$-15$, do not panic), they are worth its price as they contain powerful anti-aging components, such as retinol, vitamins, essential fatty acids and several anti-oxidants. This lotion will surely cost less than many over-the-counter anti-aging lotions and creams. 
Find Where to Buy Anti-Aging Face Lotions
If you're not yet ready to try to make this recipe at home, but you still wish to enjoy a natural anti-aging face lotion, you can find alternatives at the following links:
Lyonsleaf Beauty Balm
Kimberly Sayer Restore Organic Anti Aging Cream
Related Posts
Hope you have fun with this recipe and love the final product!! if you have any question, please, leave a comment below.
Related Posts 
Watch This Video Before Starting Your Recipe
Anti-Aging Face Lotion Recipe
This anti-aging face lotion recipe is packed with natural ingredients filled with anti-aging agents such as retinol (naturally present in rosehip seed oil), polyphenols and peptides (naturally present in pomegranate seed oil), flavonoids and other powerful anti-oxidants (present in horse-chestnut extract).
Especially indicated for aging skin, this lotion is adequate for all types of skin, including sensitive, due to the mild ingredients used.
Difficulty: Easy
Weight: 50g
Print
Pin
Rate
Instructions
Preparations
Disinfect all your equipment before starting. You can boil some of your equipment (like the double boiler, glass cups, spoons), and use a solution of 1 liter of water with 1/2 cup of bleach, for items that are not heat-resistant (like the milk frother, plastic cups or the lotion containers)
Water Phase
Measure all the water phase ingredients (rose water and horse chestnut extract) into a cup

Heat the water ingredients in low heat to around 60ºC. You can use the microwave but the best is to heat in bagne-marie. Do not let the water boil.
Oil Phase
Measure all oil ingredients (rosehip seed oil and pomegranate seed oil) into the double boiler

Place the double boiler over a pan with water (bagne-marie) and heat the oils and emulsifying wax in low heat until the wax melts
Cooling Phase
Measure all cooling phase ingredients into a small cup.

The essential oils are optional, and you can use just one of them, simply adjust the quantity. Vitamin E will enrich your lotion with an anti-oxidant, and is also optional. The preservative is not optional. Use the quantities as per manufacturer instructions. I use Euxyl k940 at 1% (0,5 ml).
Making your Lotion
Measure the temperature of both the water and the oils. Make sure the rose-infused water is at a higher temperature than the oils.

Pour the water into the oils. The mixture will immediately turn milky.

Blend the mixture well with a milk frother. If you find lumps in the mixture, heat it a little more (on low heat), and use the milk frother to dissolve the lumps.

The mixture will become creamy but runny.

Wait till the mixture is around 50ºC or a little lower (122ºF). Then pour the cooling phase ingredients and mix well with a spoon or the milk frother.
Finishing your Lotion
It's time to measure your lotion pH. It should be around 5.5 (5-6). Add one teaspoon of citric acid dissolved in water (you can also use lemon juice) if pH is too high, or a teaspoon of baking soda dissolved in water if pH is too low. Add as many teaspoon as needed but one or two should be enough.

Pour your lotion into an airless pump bottle. You can also use a tin container, but the pump bottle protects your lotion against oxidation, dirt contamination or getting in contact with your fingers.
Video
References
https://www.ncbi.nlm.nih.gov/pmc/articles/PMC3586833/#B27
https://pubmed.ncbi.nlm.nih.gov/18503457/
https://www.healthline.com/health/beauty-skin-care/rosehip-oil-for-face
https://www.healthline.com/health/pomegranate-benefits-on-skin
https://www.healthline.com/health/rose-water-benefits
https://www.healthline.com/nutrition/horse-chestnut-benefits
https://www.healthline.com/health/vitamin-e-for-skin
https://www.healthline.com/health/peptides-for-skin
https://www.healthline.com/nutrition/polyphenols
https://nymag.com/strategist/article/best-wrinkle-creams.html
https://www.prevention.com/beauty/a20486194/best-anti-aging-creams/