Are you looking to try your hand at soap making? Well, you're in luck! With the rise in popularity of DIY and handmade products, soap making has become a fun and creative hobby for many. The first step in this exciting journey is finding reliable soap making suppliers near you. In this article, we'll explore some of the best options for sourcing high-quality ingredients and equipment, as well as some tips for finding great deals on soap making supplies. Let's get started!
Table of Contents
If you're looking for something more specific, check out these posts about soap making supplies – ingredients and equipment:
What Supplies Are Needed For Soap Making?
You will need ingredients and equipment to make soap at home. But don't worry, it's not supercomplicated. Soap can have a big list of ingredients (10-15 are normal), but it's possible to make soap with only 3 of them. Even if you can use a wide sort of ingredients in soap I am listing the basic ones, and the most common among the optional ones:
BASIC INGREDIENTS
Vegetable oil, animal fat mixture of vegetable oils, animal fat
Lye or 100% sodium hydroxide (NaOH)
Distilled water
OPTIONAL INGREDIENTS
Essential oils
Oxides, micas, clays
Plant extracts (anti-oxidant)
Addictives: honey, beeswax, milk, beer, dry herbs, citric acid, oat flour
EQUIPMENT
Immersion blender
Digital scale
Kitchen thermometer
Silicone spoons and spatulas
Pyrex, stainless steel or high-quality plastic bowls, cups, jugs and pitchers
Individual soap molds (silicone) or loaf soap mold + soap cutter
For the specific case of melt and pour soap, where you purchase the soap base instead of making the soap from scratch at home:
BASIC INGREDIENTS
OPTIONAL INGREDIENTS
Essential oils
Oxides, micas, clays
Plant extracts (addictives)
EQUIPMENT
Digital scale
Silicone spoons and spatulas
Pyrex, stainless steel or high-quality plastic bowls, cups, jugs and pitchers
Individual soap molds (silicone) or loaf soap mold + soap cutter
Is It Cheaper To Make Or Buy Soap?
Commercial soap, made with cheap ingredients and mass produced with optimal manufacturing practices aimed at efficiency, is hard to beat. If you're happy with your commercial soap or your bath gel, changing to make soap at home because it's more economical, can dangerously backfire and I don't recommend. You have to spend your time and efford making soap, purchase the ingredients, and if you save anything, will be mere cents per soap.
Handmade soap is a high-quality product, and if you make it at home, you control the ingredients in it. It's also a great, fun and rewarding hobby. And these should be the reasons why, apart from wishing to start a business, anyone should make soap at home: the pleasure of making soap, or of having good soap to wash yourself, or both.
Choose The Ingredients Wisely
Having said that, making soap at home can be as cheap as buying soap at the supermarket – and, remember, it's a better product! But you need to be careful with prices, especially when purchasing the ingredients.
It's easy to buy several low-quantity oil bottles, which mean they will have the highest price per volume. So, my first advice is to use locally produced oil, or in alternative, the most common in your country (which should be the cheapest).
Vegetable oil will be the bulk of your soap cost and your soap ingredients, so make sure it's as cheap as possible – but of good quality at same time. Start with one-oil recipes, or at most soaps that take 2 or 3 different oils. Here are some recipes you can start with, perfect for beginners, and for those wishing to save on soap cost: Soap Recipes For Begginers.
Careful With What You Scent Your Soap With
Next come the fragrance product for your soap. This is usually 50% of your soap ingredients cost, even if you use only 3% in its composition. So, we really need to work things out here.
Essential oils are the number one choice for naturally scenting your soap, and I do prefer to use them instead of fragrances – namely because they have much less chances of accelerating your soap.
But beware. Some reputable brands make essential oils for aromatherapy purposes, and they are terribly expensive. Most are $10, some are $20-$50 and you can go as high as $300 per 1/3 fl.oz!! Since you use exactly that (1/3 fl.oz.) for 1 lb of soap… well, do the math = prohibitively expensive soap!
They are not worthy to only scent your soap. But what about the therapeutic properties, you ask? Well, the chemical process that makes soap destroys most plant material, therefore, your essential oil will be reduced to its scent – which can fade too with time. It's a big waste of money.
Also, avoid essential oils from health stores. They are also very expensive and, worse, its quality may be compromised, as we don't know for how long they have been in the shelf.
I have a post about essential oils for soap making and you can follow its recomendations. It's not pointing you for the cheapest ever or the most expensive: it's pointing you for best quality/price relation. At most, use it as a reference to your own essential oils choice.
Don't forget these are optional ingredients: you can make unscented soap! You will save a lot and your soap will definitely become competitive if you skip the frangrances/essential oils.
As for remaining ingredients – lye, distilled water, grapefruit seed extract, citric acid or oat flour. dry herbs – you can either get them for free, or they usually have a low cost per volume. However, use the links in this post or in any recipe to have an idea of how much the ingredient should cost and avoid purchasing it even more expensive.
Where To Buy Cheap Soap Making Supplies?
As mentioned before, soap is not about being cheap economically, but about being a high-quality product. Something that is milder for your skin and doesn't disrupt its balance. As general rule, if you have the ingredients locally available, these are the cheapest to use. Even a supermarket can provide you with most ingredients for a low cost. In Portugal, I am able to purchase everything at a supermarket – lye included – at a relatively low cost.
If you're looking to save some money on your soap making supplies, there are a few places you can look for affordable options. Here are some suggestions:
Amazon: Amazon is a great place to find soap making supplies at a discounted price. You can find a wide range of products, including oils, soap molds, fragrances, and more. Plus, with Amazon Prime, you can often get free and fast shipping.
Walmart: Walmart carries some basic soap making supplies, such as glycerin soap base, essential oils, and colorants. While their selection may not be as extensive as other retailers, they do offer competitive prices and convenient in-store pickup options.
Dollar stores: Believe it or not, dollar stores can be a great place to find some soap making supplies. Look for basic items like measuring cups, spoons, and mixing bowls. You may also be able to find some basic oils and fragrances, but make sure to check the labels to ensure they're suitable for soap making.
Online marketplaces: Websites like Etsy and eBay can be a great place to find handmade soap making supplies at a discounted price. Look for reputable sellers with positive reviews, and make sure to read the product descriptions carefully to ensure you're getting what you need.
Local co-ops or community centers: If you live in a community with a co-op or community center, check to see if they offer soap making supplies at a discounted price. They may also offer classes or workshops to help you learn how to make soap.
Remember, while it's important to save money where you can, make sure to prioritize the quality of your soap making supplies. Cheap or low-quality supplies can result in a less-than-stellar final product, so make sure to do your research before making a purchase.
Brambleberry
Nurture Soap
Bulk Apothecary
Etsy
Amazon
Ebay
Best Soap Making Suppliers Near Me
Soap making specialty stores, or the big online marketplaces previously mentioned are all good places to purchase soap ingredients and equipment. Below, you can find a list of really good soap making suppliers, all of them shipping internationally. At least one of them is going to be near you:
1. Plena Natura (EU)
Plena Natura became the first, and main portuguese supplier for artisanal and natural production of soaps and cosmetics. With a wide range of supplies such as oils, colorants, and additives, they provide high-quality, affordable ingredients for those who prefer natural products. Among other very good ingredients, they are one of the very few suppliers selling Euxyl K940, a strong and very effective cosmetic preservative. Had no issues in 3 years with my homemade products using this preservative. Obviously, living in Portugal, this is my main supplier to everything related with soap and natural cosmetics. If you contact them directly, they are able to ship outside Portugal. They sell both ingredients and equipment.
2. Gran Velada (EU)
If you live in Spain or Portugal and ever searched the net for supplies for handmade soap, candles, air fresheners or plaster souvenirs, you have probably found Gran Velada. Gran Velada is an online business that began in 2004, becoming one of the first online stores in Spain. Gran Velada offers a vast selection of high-quality supplies, including silicone molds, packaging, equipment and starter kits, but their ingredients have a more refined, industrial feel compared to other companies. They strive to be an ethical, equal-opportunities company: they prioritize work-life balance as a core value, they value promoting employment in rural areas and have an 80% female workforce. They ship to all Europe.
3. Soap Queen Europe (EU)
Soap Queen is an online shop based in the Netherlands (see also their dutch website) that supplies raw materials for creating handmade soap, cosmetics, candles, and aroma products. They offer retail and wholesale options for small business, as well as a loyalty program, and ship internationally. With a commitment to sustainable business practices, Soap Queen buys directly from manufacturers and offers a great price/quality ratio. The company also provides workshops and children's party boxes. Soap Queen uses environmentally friendly packing materials and offers several discounts to its regular customers. The company is not affiliated with Anne-Marie Faiola's Soap Queen in the US.
4. The Soap Kitchen (EU)
The Soap Kitchen is a UK-based supplier of high-quality soap making supplies and ingredients. They offer a wide range of natural cosmetic ingredients, including organic and fair trade options, and have a strong commitment to sustainability. Their selection of natural fragrance oils and essential oils is particularly extensive. While they do not have a loyalty program like SoapQueen, The Soap Kitchen offers free shipping on orders over £120 for UK residents, which can be a great deal for larger purchases. Compared to SoapQueen, The Soap Kitchen has a larger variety of natural cosmetic ingredients, making them a great alternative for those looking for more specialized and diverse options. They also have cold process soap making kits for beginners, something you can't find in SoapQueen.
5. The Soapery (EU)
The Soapery is another UK-based, small-sized supplier of natural ingredients for creating skin and hair care products, founded in 2014 by Andy Knowles. The company was created out of Knowles' personal struggle with sensitive skin and the high cost of natural cosmetic ingredients. The Soapery supplies quality ingredients at a very affordable price as I could find when I've bought jojoba oil and shea butter from them. Yes, they don't sell equipment and a huge variety of ingredients, but they show some care for soap makers like you and me who don't run small business and can't afford to buy 500g of avocado butter… If you need to buy small, The Soapery is a much better choice. They also operate in a sustainable way by stocking only RSPO certified palm oil and using recycled materials for packaging. They can be found at Amazon.
6. Bramble Berry (US)
Bramble Berry is more than a soap making online store. It's a community of passionate makers who believe in the power of creativity to connect people and bring joy to their lives. They offer a curated collection of projects, easy-to-follow video tutorials, and expert guidance, all aimed at helping people unleash their creativity. With thousands of products sourced from around the world and tested in their lab, Bramble Berry only offers the ones that perform best. Founded by Anne-Marie Faiola in 1999, Bramble Berry now has more than 60,000 customers, thousands of products, and a dedicated team of over 90 employees. Their former website, SoapQueen.com, is a source of material for most soap maker beginners, myself included.
7. Bulk Apothecary (US)
Bulk Apothecary, founded in Ohio in 2010, has become one of the largest online suppliers of natural ingredients and essential oils in the US. Initially focused on soap and candle making supplies, their offerings quickly expanded to include a wide range of specialty ingredients and supplements. Their success comes from sourcing high-quality ingredients at market-leading prices while always prioritizing excellent customer service. With a strong focus on their founding principles, Bulk Apothecary has continued to grow and now includes the Nature's Oil line of natural oils and supplements. You can try and find this line of products in your local crafts shop.
8. Nurture Soap (US)
Nurture Soap is a family-owned business committed to providing soap makers with the best quality soap making supplies. Founded by Carrie Thornsbury, a soap maker herself, Nurture Soap has a range of products that have been rigorously tested from a soap maker's perspective. The company prides itself on ethically sourcing their products and supporting their local community, promoting environmental sustainability and offering carbon-neutral shipping at no extra cost. Plus, all their products are vegan and cruelty-free. Oh, and they are more affordable than the previous two suppliers.
9. Etsy (Global)
Etsy is a global marketplace where you can find unique and creative soap making supplies. The platform is built to keep human connection at the heart of commerce by empowering creative entrepreneurs to start, manage, and scale their businesses. Whether you are looking for handcrafted soap molds, unique fragrance oils, or vintage soap making tools, Etsy provides a vibrant community of real people connecting over special goods. Find all your soap making supplies among other soap makers and handcrafted artisans, including cold process soap making kits for beginners. Etsy is available globally and most likely is your elected choice if you live outside Europe and the US.
10. Amazon (Global)
And last, but not least, Amazon. Amazon is such a giant by now that it comes without the need to present it. Not only a multinational online marketplace, Amazon also sells cloud computing, online advertising, digital streaming, and artificial intelligence. But back to soap making supplies. Wherever you are in the planet, Amazon can sell you all sorts of soap making ingredients and equipment, some very affordable, or with good discounts. From essential oils and natural colorants to soap molds and cutting tools, you can find everything you need to create your own unique soap creations. Also, shop with confidence knowing that many of the products are backed by customer reviews and ratings, making it easy to find the best options for your soap making projects.
Where Can I Buy Soap Making Kits?
If you're new to soap making, buying a kit can be a great way to get started. Kits typically include everything you need to make a batch of soap, including soap base, fragrance, and colorants, and even some equipment. No need to waste time searching for ingredients you actually don't know much about at this point.
Fortunately, there are soap making beginner's kits for cold process already, although the most common you'll find is melt and pour. As mentioned in How Do You Make Soap For Beginners? melt and pour is not really making soap from scratch, but it's a great way to start soap making. As for the final soap, they are as good as handmade soap.
Still, if you wish to try soap from scratch, the most specialized stores, especially in US, have cold process starter kits. Etsy is your go-to store if you live outside US and wish to get a cold process soap making starter kit.
Here are some generic places where you can find soap making kits, search locally and see if you can find one of those:
Soap making supply stores: Many soap making supply stores offer kits for beginners. These kits typically include all the basic supplies you need to get started, along with instructions and guidance. You can find kits for cold process and melt and pour. You will find a lot of them in the links further below this post.
Online marketplaces: As mentioned earlier, websites like Etsy can be a great place to find handmade soap making supplies. Many sellers offer soap making kits that include everything you need to get started, including instructions and guidance. You hav the greatest chance to find diverse soap making kits here, including hot process.
Amazon: Amazon offers a wide selection of soap making kits, from beginner kits to more advanced options. And the best part is that Amazon is everywhere!
Etsy: Etsy is a worldwide marketplace for everything handmade. Naturally, they have everything about soap making supplies, including soap making kits. They have a wide offer, selling also cold process kits, something you can't find at Amazon.
Craft stores: Craft stores like Michaels and Joann Fabrics may also offer soap making kits. These kits may include basic supplies and instructions, but may not be as comprehensive as kits from soap making supply stores or online marketplaces.
Before purchasing a soap making kit, make sure to read the product descriptions carefully to ensure it includes everything you need to get started. You should also do your research to make sure you're buying from a reputable seller or retailer. With the right kit and some patience and practice, you'll be making beautiful, handmade soap in no time!
Still finding difficult to choose a soap making kit to start? Don't worry, you can find below a shortlist of soap making kits especially chosen for you. But feel free to browse on each soap making shop, usually there are more than one soap making kit available:
1 . Gran Velada (EU)
Gran Velada has a good range of soap making kits suitable for beginners. These kits contain all the materials required to make glycerin soap, including molds, fragrances, and colors, and come with step-by-step instructions. Make heart-shaped soaps or create unique designs to gift friends and family. They have more shapes and colors to choose from. Unfortunately, they don't have cold process kits.
---
2 . Soap Queen Europe (EU)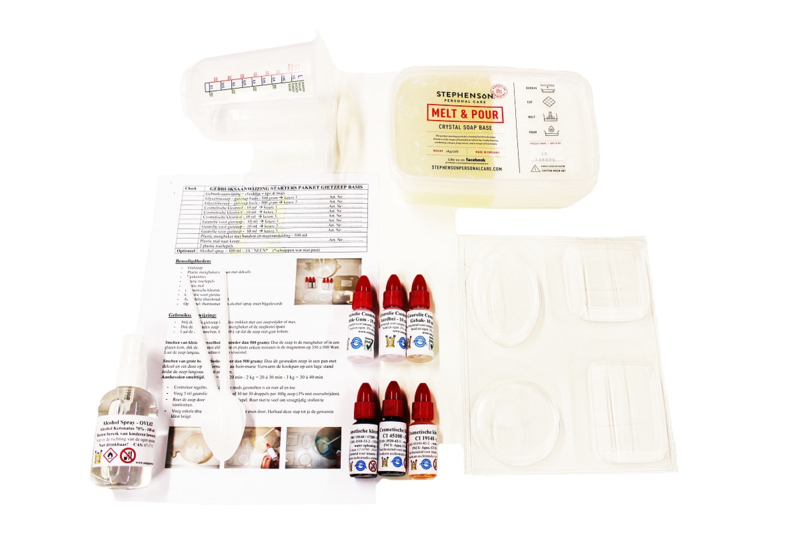 Soap Queen Europe's starter package provides a great foundation for creating melt and pour soaps. You can personalize your kit with soap bases, fragrances, colors, and molds to create high-quality soaps at home. This kit may be more expensive, but it provides greater flexibility to unleash your creativity and make soaps that are uniquely yours.
---
3. The Soap Kitchen (EU)
The Soap Kitchen is your best choice to get a cold process starter kit in Europe. They are also surprisingly affordable too! You can get a soap making kit to make around 500g (~1 lb) of soap for only 25£. Considering that the mold alone is more than 8£, this is a good deal. If you prefer melt and pour, they also have a starter kit with a white base and another with a clear base. All kits come with all necessary ingredients and equipment, as well as recipe instructions. And don't forget to buy soap making safety equiment too!!
---
4. Brambleberry (US)
Brambleberry is a specialized soap making store offering a variety of soap making kits, including cold process soap kits. Their Watermelon Soap Kit contains everything needed to create fresh and fruity glycerin soap bars. Their Aloe Cold Process Soap Kit is also worth checking out, especially if you wish to try cold process soap at home. Although they may be a bit pricey, Brambleberry provides a much wider range of options for different soap making techniques.
---
5. Nurture Soap (US)
Nurture Soap is another reputable soap making store in the US, although probably less known. Nurture Soap offers more affordable soap making kits for both cold process and melt and pour soaps. Despite their lower price point, they provide high-quality materials to create beautiful soap bars from scratch. While they only have two kits, each kit has several scents and colors to choose from.
---
6. Etsy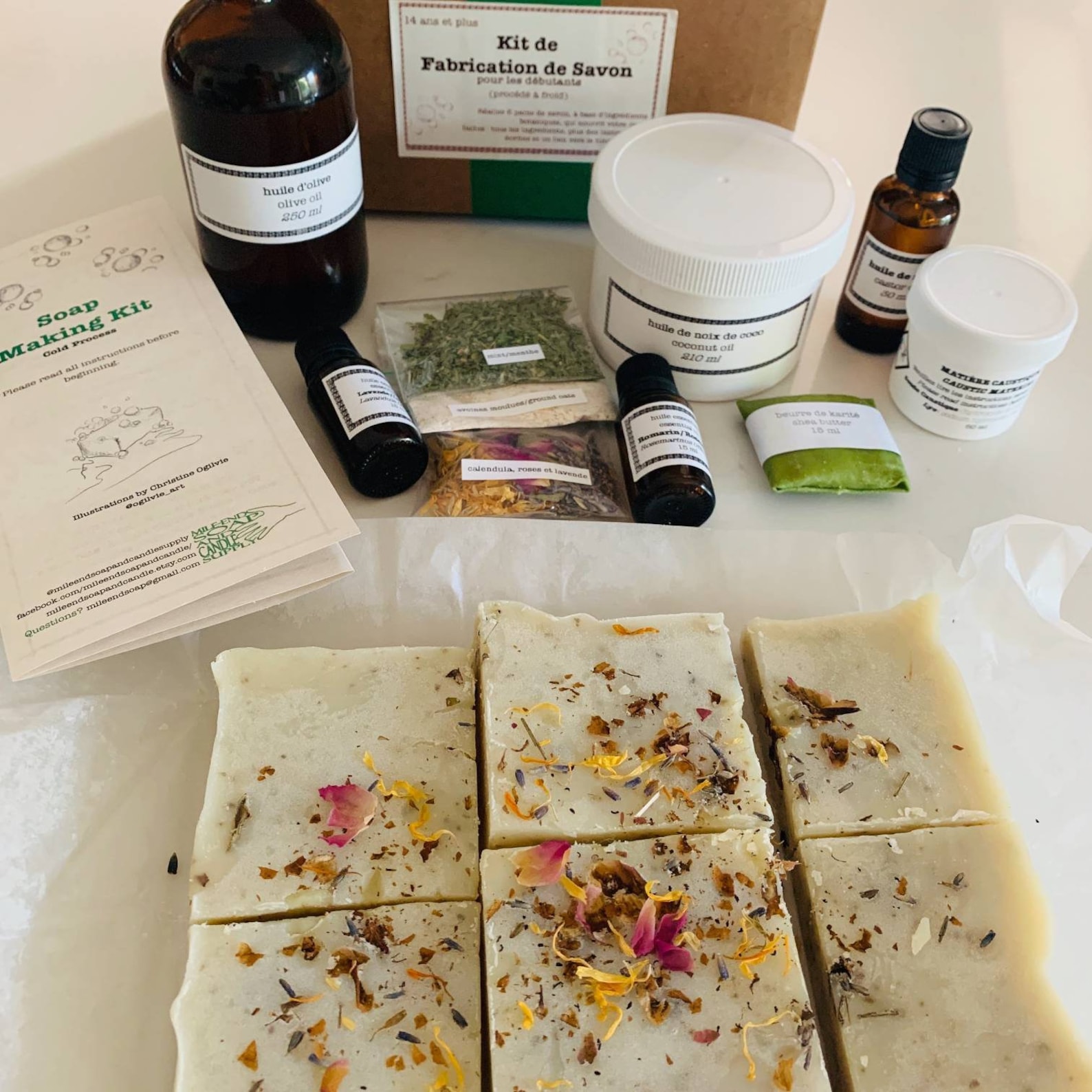 Etsy is a great destination for soap making supplies, particularly for those outside the US. Their soap making kits for both cold process and melt and pour techniques, carefully setup by artisans, are popular among customers. This DIY Soap Making Kit for cold process craft has received high ratings for the quality of ingredients and thoroughness of instructions, but you can find much, much more. The offer is really big for both cold process and melt and pour soaps.
---
7. Amazon/Ebay
Worldwide marketplaces have to be on this list. Both Amazon and Ebay offer a wide variety of melt and pour soap making kits, including this Shea Butter Soap Making Kit. This starter set comes with everything needed to begin your soap making journey. While cold process soap making kits are really hard to find if not impossible, you can find packages with pre-made oil mixtures at Amazon that make cold process soap making at home so much easier. Available worldwide, Amazon or Ebay are great options if all other stores are not available in your area. Use both and compare prices to choose the best and most affordable soap making kit for you.